6
minute read
Connecting with your customer via customer mail is one of the most important ways to build and develop a long-lasting relationship with your audience. It forms part of a positive customer experience (CX), and if your audience feels unsatisfied with the quality of your customer communication, you could risk losing their loyalty altogether. 
In an increasingly focused digital communication world, sending a message through physical mediums has become increasingly poignant. Now, organisations are focusing on strengthening their communication and CX strategy by incorporating and integrating customer mail into their overall experience.
What is customer mail? 
In short, customer mail entails any form of communication from an organisation to a customer who already shares an established relationship with them. It encompasses a wide range of content, including items like invoices, appointment reminders, welcome packs, and general notifications.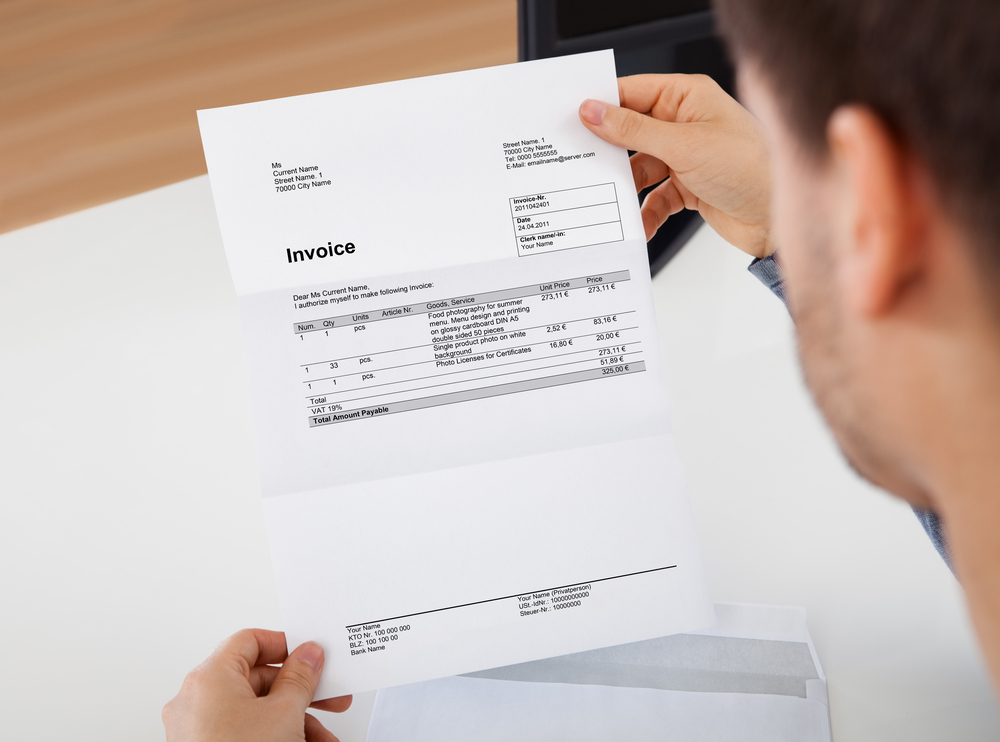 Apart from strengthening the customer relationship, the main goal behind customer mail is to share vital information and offer support. 
Why is customer mail important? 
Customer mail is incredibly important because it helps individuals interact with an organisation, encouraging a financial or physical impact. For example, it can be used to send order confirmations, payment notifications, or appointment reminders, which, in turn, reduces customer queries, avoids late payments and minimises the number of missed commitments. 
Integrating physical communications, like customer mail, also helps improve engagement, drive response rates and foster brand loyalty. 
Customers like the choice. They don't want to feel they are forced into opting for digital-only communications.
Instead, they would like the option to choose between the two and even combine channels. If you reach out to your customer via their preferred channel, they will be more likely to reply and engage with the message.
Four benefits of customer mail 
So in a digital age, why is physical customer mail, that's printed and posted out to recipients, still so important? Here are four compelling reasons.
1. People engage with mail 
You can receive up to hundreds of digital messages a day, whereas the number of daily letters you'll receive is relatively small.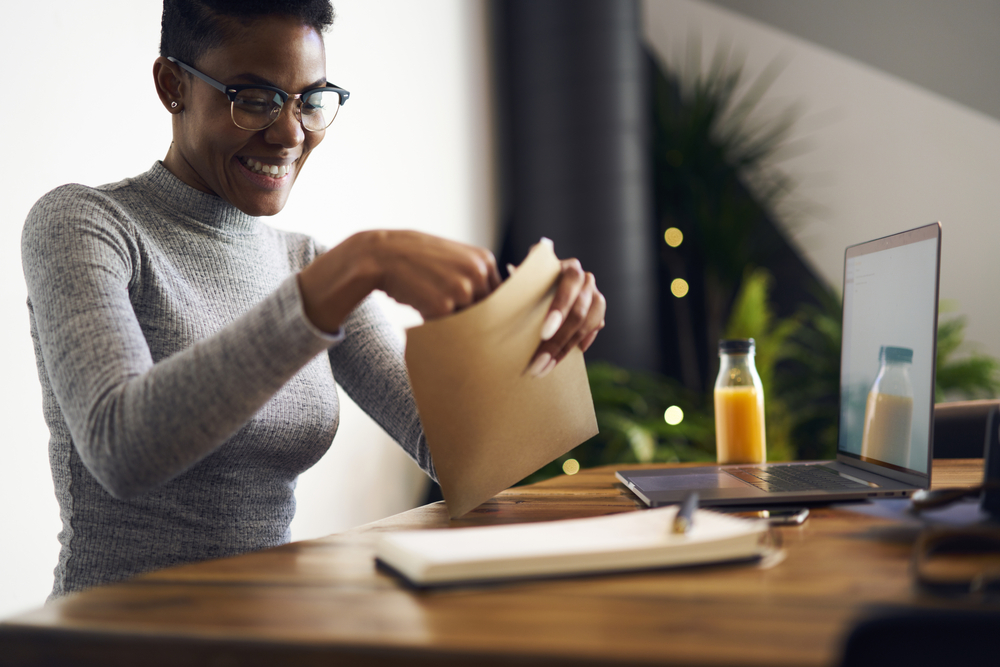 Therefore, people tend to engage more with mail than digital communication. You probably wouldn't ignore letters through the post like you do with emails and mobile notifications, so organisations should capitalise on that.
According to a report by Royal Mail and Marketreach, 99% of customer mail is interacted with, from opening it, reading it, to storing it for later.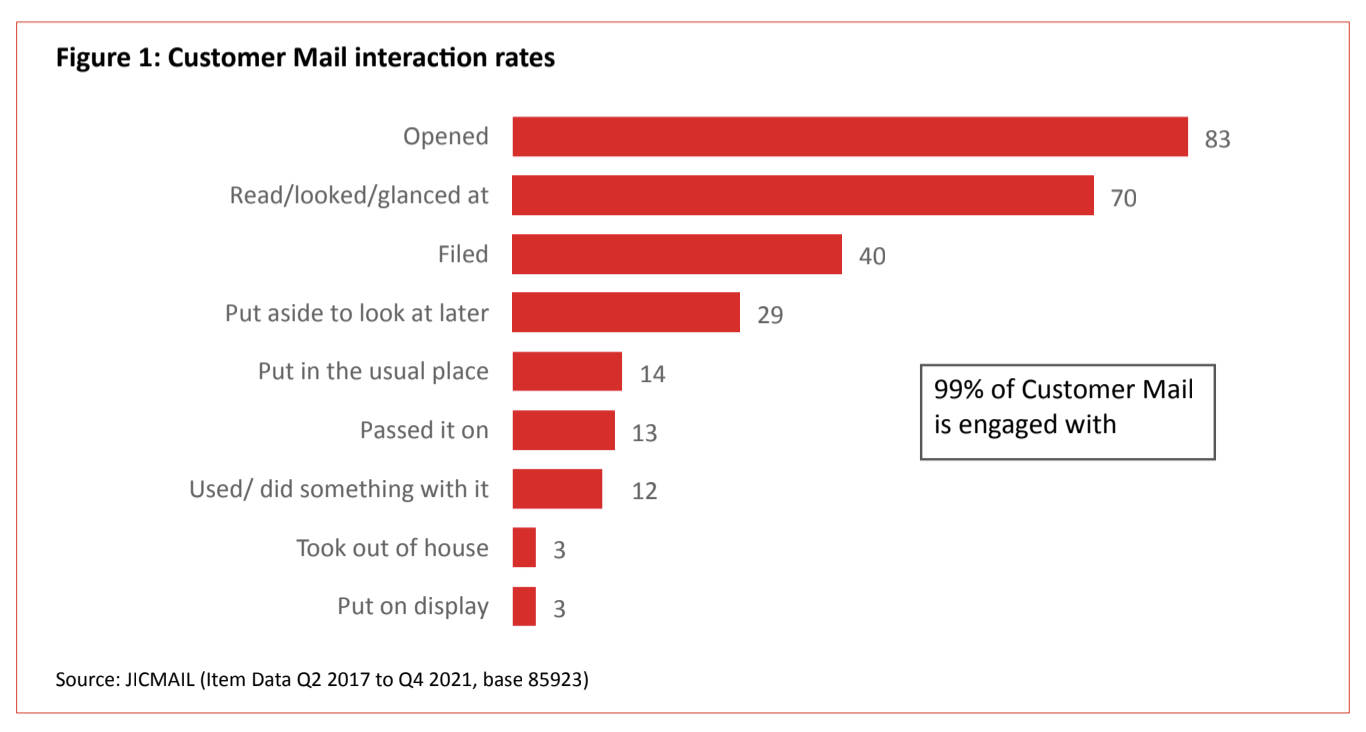 2. Mail works across age groups 
Many organisations assume that digital communication channels are better suited to the younger generation and customer mail is better received across older age groups.
However, the truth is that physical communication is equally relevant, received, and appreciated across all age groups.
According to the same report, 77% of 18-34-year-olds engage with customer mail positively. In contrast, it's only 67% for email, which is surprising considering that GenZ and Millenials spend a lot of time on digital devices!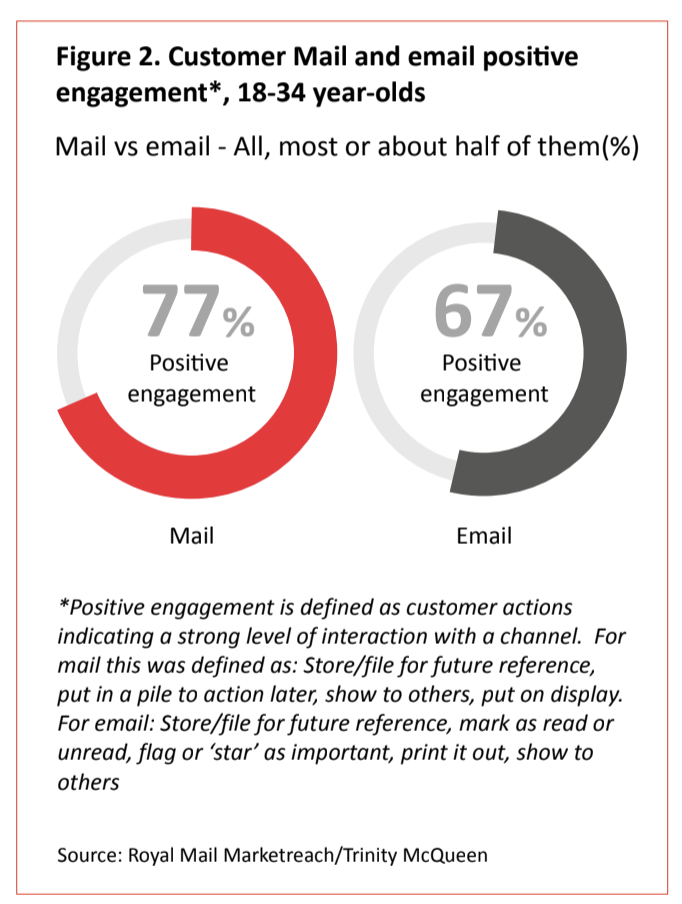 3. Mail is trusted 
You can't create brand equity or build a relationship with customers without trust.
Sending out reputable and high-quality content strengthens your position as a trustworthy organisation. Moreover, consumers perceive mail as one of the most credible forms of communication out there.
Again, from that same report, on average, 71% of people who receive customer mail completely trust it and where it's coming from, the main ones being hospital appointments, credit card statements and communications, mobile phone bills and insurance documents. 
4. Mail has a commercial impact 
It has proven itself to be a great medium when it comes to creating a commercial impact. After all, it is the original form of consumer-directed communication. 
When customers receive a letter in the post, it prompts them to take action, especially if they are instructed to take further steps or seek more information online.   
Customer action on the back of receiving mail is driven by how many people it reaches and sees. It is estimated that one million items sent generate 5.4 million opportunities to be seen, leading to five times more opportunities for engagement and sales.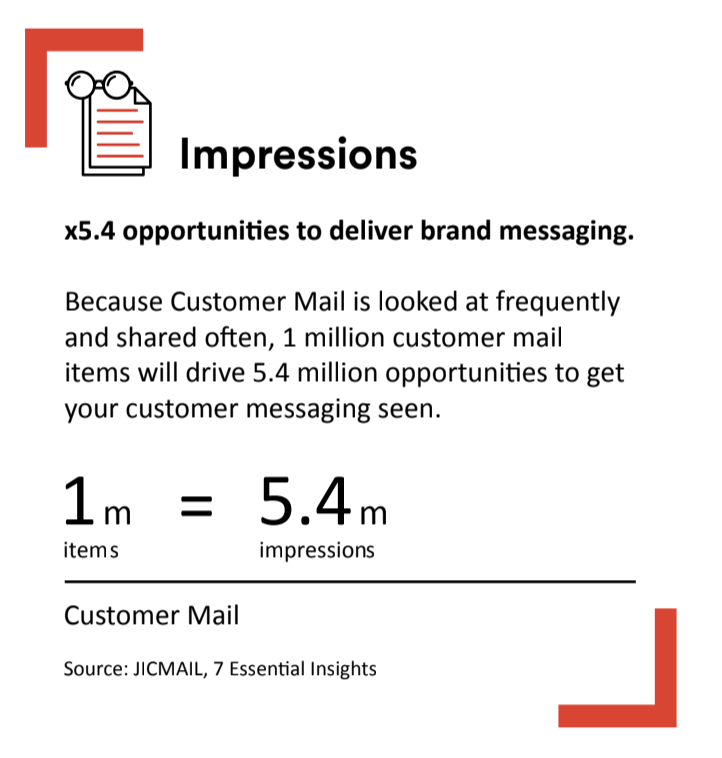 As an organisation, why wouldn't you want to integrate customer mail into your communications strategy?
Importance of using customer mail and digital communications 
Unlike digital communication, which can often be seen as informal, instant, and temporary, customer mail is characterised as formal, long-lasting, and important. Although each has a unique set of attributes and benefits, combining both forms of communication and adopting an omnichannel approach increases the efficiency of the message. 
Also known as "phygital", this latest trend merges the physical with the digital to create a powerful and generally good customer experience. Not only this, but technological developments, such as voice activation, QR codes, and augmented reality, further support this movement's powerful influence on our society. 
Digital and mail should not be perceived as polarising channels of communication. Instead, they should be considered complementary because they work together to evoke a stronger response from the consumer.
For example, a customer that has a pre-existing relationship with your organisation via mail will be more likely to interact with your brand in the future.
Examples of customer mail 
Let's look at some examples that illustrate the strength of integrating it into your communication strategy. 
Government mail 
Public sector organisations, like Stockport MBC, which works with Datagraphic, use mail to connect with customers and suppliers. They need to deliver their audience a trustworthy message and achieve this element of credibility with a physical document. 
Giving recipients a paper document, whether about council tax, bin collections, benefit statements or parking notices, allows them to take action immediately but have information they can hold on to for future reference if needed.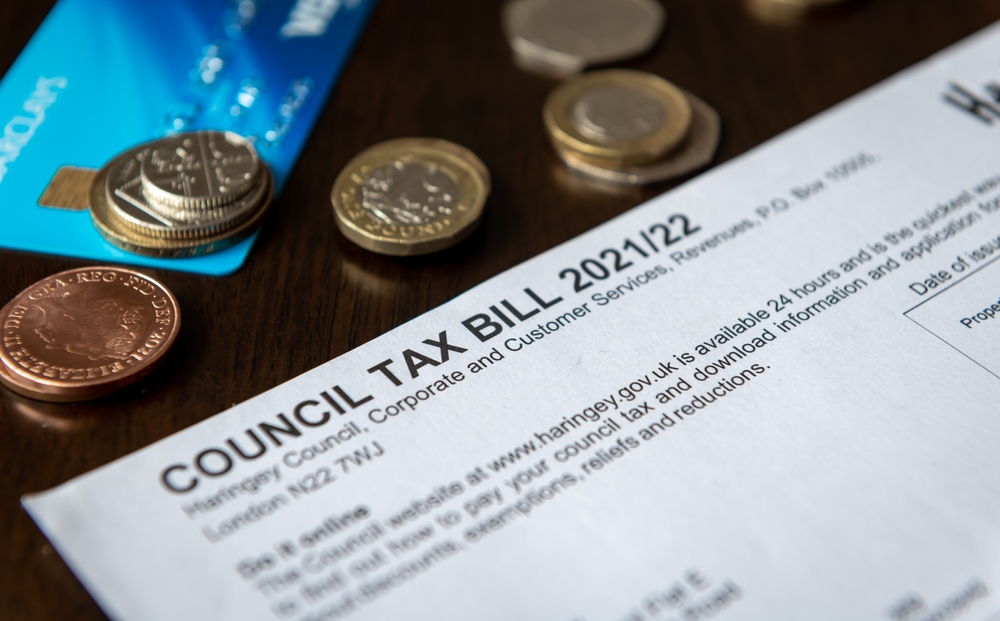 It's also easier to read and equally accessible across all age groups. 
Brand customer mail 
Consumers no longer look for the best product or the ultimate level of service; they yearn for a combination of the two, also known as the optimal customer experience.
Brands can use customer mail to develop a strong relationship with their audience and enhance their reputation or image. A customer receiving brand mail is much more likely to engage with the organisation again if they see an advert or post online. 
An example of this is one that I have received recently. You can request a brochure to be sent to you by The White Company, and with it comes an introductory voucher to use in-store or online. The brochure itself is so well crafted, and there's an incentive to purchase via the means most convenient for you.
Customer mail design tips 
It's vital that you nail your customer mail, as delivering a poor quality standard will imply your message lacks effort and importance. On the other hand, an outstanding design and layout will reinforce your overall brand and encourage your customer to engage and trust your relationship. 
Generally speaking, your communication and design style should always align with your brand, embody its values, and deliver a sensory experience. Offer your customers clear information with minimal jargon and straightforward instructions. It should look credible and trustworthy but remain appealing to the reader.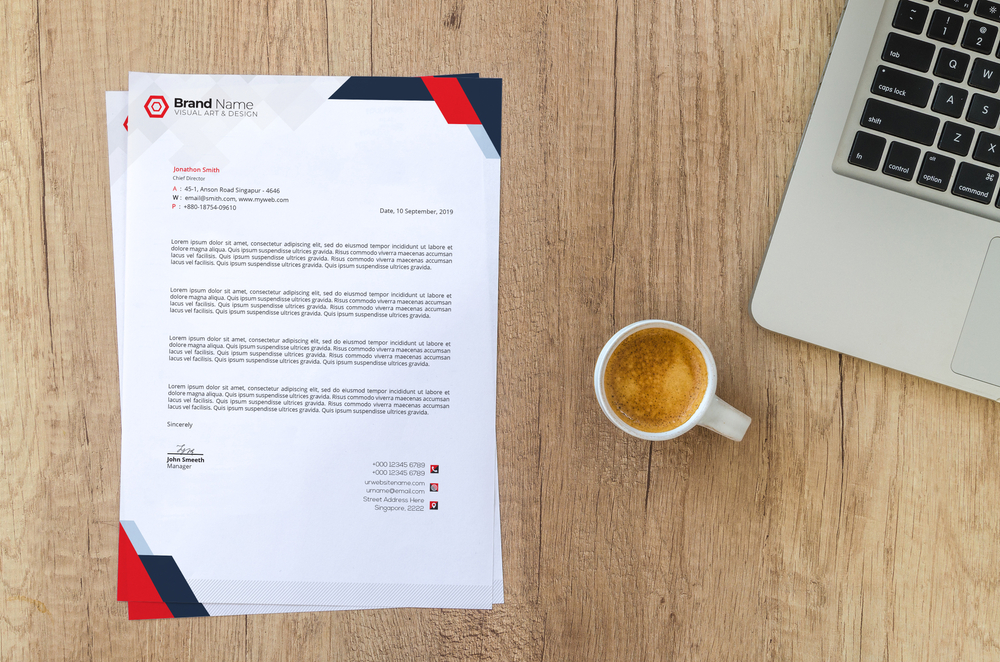 More specifically, you should: 
Sign off with a name to add a personal touch 

Personalise their message to create a more intimate relationship 

Include an easy-to-read section with contact details 

Keep the message visually interesting with bullet points, graphics, and bolding  

Avoid small font and compressed paragraphs

Avoid overly complex language 

Avoid any irrelevant information 
How to measure the success of customer mail
Organisations should perceive customer mail as an investment that enhances their customer experience. Therefore, the return on investment (ROI) should encompass more comprehensive benefits such as deferred costs, customer retention, brand loyalty and recognition.
More often than not, organisations limit their measures of its success to narrow metrics such as operational costs and advertising budgets. 
However, we recommend you measure its success via the entire life lifespan of customer interactions, from initial reach to conversion and, finally, to the impact of commercial action. This can be achieved through metrics such as channel-unique phone numbers, web traffic, and QR codes. 
Final thoughts 
Given customer mail's credibility and tangibility, it continues to set itself apart from just digital communication. However, this is not to say that one should be used in favour of the other. Instead, organisations should strive to adopt an omnichannel experience that combines the best of both worlds. 
Datagraphic's multichannel communication platform, Aceni, allows organisations, and their respective customers, to benefit from a well-rounded and overall great customer experience, which covers a wide range of touchpoints and offers a seamless way to communicate information through preferred channels.
You can combine digital messages with customer mail to enhance your brand's reputation, deliver high-quality content, and encourage commercial impact. 
We hope you found this guide to customer mail useful, but if you have any questions, please don't hesitate to contact us.