8
minute read
Understand Hybrid Mail and learn why a letter printing and mailing service will benefit your team. 
Hybrid Mail solutions print and post your everyday letters and documents. They automate processes, letting you transfer outbound mail files electronically to a third-party printing and mailing specialist for production and distribution.
In this article, we share everything you need to know about Hybrid Mail. We look at why it has become an essential productivity tool today: despite being around for over a decade! We share how Hybrid Mail works, how much you could save using it, and success stories from people who have made the switch already.
Why the use of Hybrid Mail is growing
Hybrid Mail isn't a new concept. Here at Datagraphic, our first launch of a Hybrid Mail solution was back in 2008. But, the term and what it represents saw an explosion in use in 2020 and it continues to rise today.
As organisations switch away from traditional office printing, some Hybrid Mail service providers are reporting double-digit growth. But why now?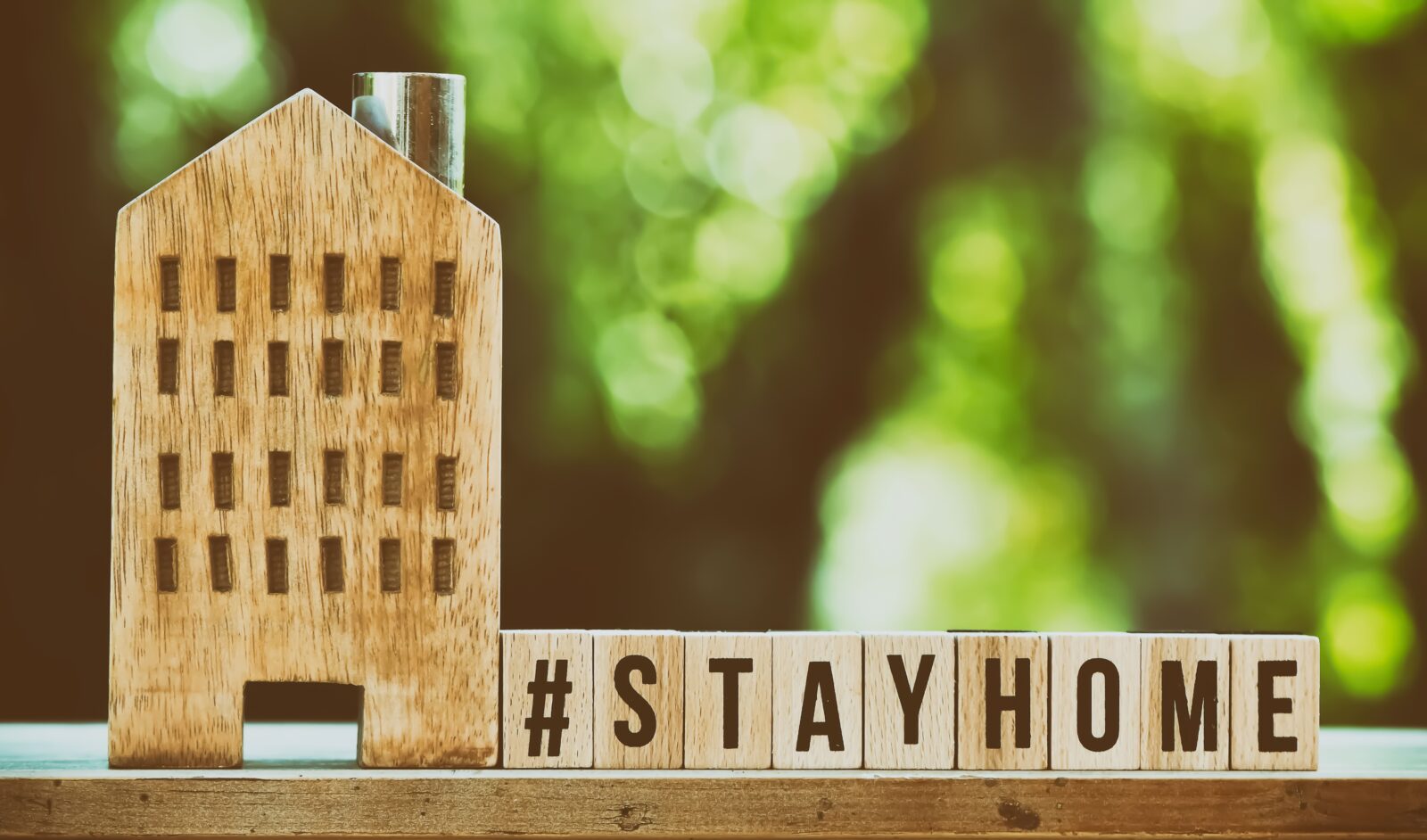 Back in March 2020, we saw the UK government's first 'lockdown' for the COVID-pandemic. Their request was for people to work from home, if possible, which was a challenge for many organisations. Those with a heavy reliance on office-based teams, processes, and equipment saw delays – even cancellations – of critical outbound communications like payslips and invoices.
Overnight, organisations – needing to maintain business-as-usual communications to customers, suppliers and employees – began exploring their options.
The pandemic was also triggering the need for additional communications. Suddenly teams, with fewer resources, had to send furlough and contract letters to employees, service updates to customers and appointment cancellation letters: amongst many applications.
As the year unfolded, the situation didn't get any less complex. A mix of national, local and even individual pandemic restrictions making internal resource planning difficult. Organisations faced a perfect storm: the need to communicate more, but with fewer people and resources in the right places to do it.
And, at the start of 2021, with 'lockdown' restrictions across the UK's nations, Hybrid Mail once again became the ideal business continuity solution.
Hybrid Mail can be set-up in days, and employees can use it anywhere to automate the printing and distribution of outbound communications. It's completely scalable too, giving teams the flexibility they need in changeable times.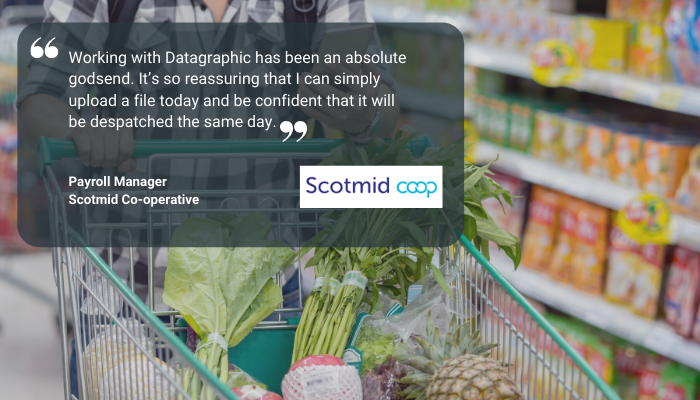 Are Hybrid Mail solutions a short-term answer?
Here's the interesting thing. At the start of the pandemic, many organisations switched to Hybrid Mail as a quick-fix. Without software to install, license fees or long-term contracts, Hybrid Mail was an effective way to keep critical communications flowing in difficult times. But, as people have been using the service, they've realised it's an invaluable productivity tool for the long-term. And a cost-efficient one too.
One report from Microsoft suggests workplaces and more specifically peoples' attitudes to where they work are changing.
---
Although firms across the UK are currently taking a digital-first approach, few plan to have a 100% remote workforce for the long term. The likeliest scenario is that most organisations will adopt a hybrid working model, with the workforce split between working remotely and working in the office.¹
---
A rise in 'hybrid working' – where employees split their time between home and work premises – means stationery,  printers, mailing equipment and franking machines aren't always easily accessible.
We're talking about people who create documents daily: colleagues who once sat five days a week in call centres, offices and branches. To do their work successfully, they need tools to print and post letters from anywhere. An online Hybrid Mail service makes that possible.
There's also recognition that preparing, printing and posting letters is a repetitive and manual process. A process that pre-COVID-19 teams just made happen. But, in doing so, organisations saw valuable individuals tied up when their skills would suit more productive high-value work.
A growing 'working from home' culture and a team that isn't always in the office, means Hybrid Mail can take on those manual tasks. Staff get the tools to provide a business-as-usual service, but also have time to focus on work they previously didn't get time to complete.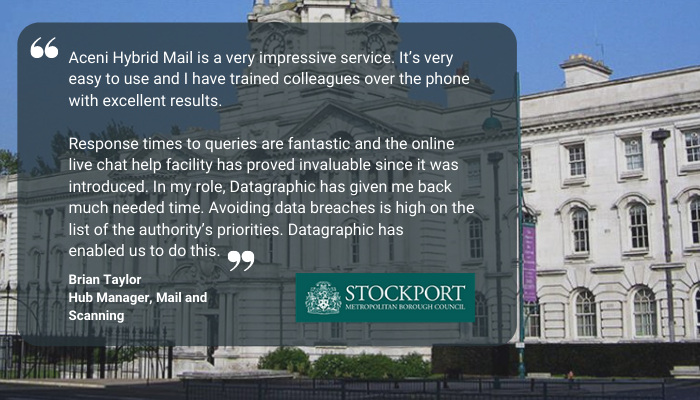 How Aceni Hybrid Mail is delivering value
One thing the pandemic has proven is that teams today need web-based 'access from anywhere' technology for service delivery. Aceni Hybrid Mail, our online print and post services, is providing the solution.
A secure online Software-as-a-Service (Saas) application for outbound mail, Aceni Hybrid Mail is a powerful productivity tool, to automate your print and mail processes. It delivers scalable, end-to-end document printing and mailing all controlled and delivered at our secure UK, GDPR compliant centre.
Aceni Hybrid Mail can go-live without any software to install, capital investment or license fees to pay. It helps you deliver digital transformation and document automation quickly and future-proof your processes to cope with changing demands.
And if the number of letters you need to send each day fluctuates, it's not a problem. You can handle seasonal demands and changing print preferences with ease. Hybrid Mail lets you send one document or hundreds of thousands without spending extra on more equipment or people to do the work.
Who benefits from Hybrid Mail?
Hybrid Mail is proving an invaluable resource for public and private sector organisations of all sizes. It's helping every organisation that needs to send outbound mail. From responding to customer queries and confirming appointments to informing a recruit they're hired!
Hybrid Mail helps teams react quickly when sending out critical communications that must mail the same day. But it's equally at home processing files to mail at a future date.
And speaking of the future, forward-thinking organisations now recognise Hybrid Mail helps future-proof their operations. When workflows and document processes come under review,  Hybrid Mail outperforms traditional approaches hands down. It takes on the labour intensive tasks of printing, collating and despatching mailings with greater accuracy than manual labour. And handles fluctuating volumes of letters with easy to provide a completely scalable solution.
How much does Hybrid Mail cost?
Industry experts (including Royal Mail and Xerox) suggest office mail produced in-house could cost over £1 per letter, made up of: office printer costs (equipment, consumables and maintenance), pre-printed stationery and envelopes, office and mailroom labour, rental and servicing of franking machines and postage. The same process through an outsource print and post service like Aceni Hybrid Mail would cost less than £0.60.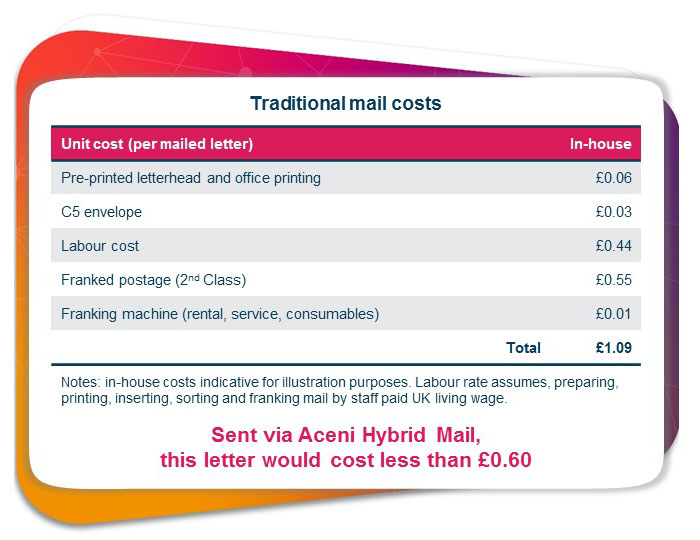 How does Aceni Hybrid Mail work?
Any member of your team can use Hybrid Mail from home or a company office. They only need a computer and the file they want to print and mail, and Hybrid Mail will take care of everything else.
Hybrid Mail works so well because it's simple.
Your letter can be printing and in the post the same day if you follow these four simple steps:
Step 1 – you upload a mail-merged PDF, or Word document, to the Hybrid Mail web application
Step 2 – you choose your print and postage preferences
Step 3 – you choose a digital letterhead and any enclosure(s) to mail with the letter
Step 4 – you check an online proof and submit for printing and mailing
But, don't let Hybrid Mail's simplicity fool you into thinking it's not a powerful tool. Hybrid Mail has many features people love, such as:
a same-day despatch from our GDPR compliant mailing service for outbound communications
a simple & secure data transfer process: HTTPS, Print Driver, SFTP, API
no minimum order quantity, so you can send what you need when you need it
workflow automation, so you can build different mailing packs on-screen
manager approvals, letting you control the quality of letters going out
detailed Management Information, to trace your document's production and provide an audit trail
And naturally – given the critical communications Hybrid Mail processes – the service hosts in a secure private UK cloud. It has a high service availability, and all processing takes place at our ISO 27001:2013 approved and GDPR compliant production facility in the UK.
Aceni Hybrid Mail can post the same day
Aceni Hybrid Mail takes care of your outbound communications. Whether you send one letter or thousands, if you submit documents before 5 pm, on a working day, we can print and post the same day. And results show we keep that promise 99.999% of the time.
---
We've pushed back cut-off times to 5 pm to give our
Hybrid Mail clients an extra hour to upload letters to print and mail the same day!
---
Our secure UK production centre has a capacity for 400 million documents a year, so you can be confident your documents are in the best hands.
What documents can you send?
Aceni Hybrid Mail is suitable for single or multi-page A4 documents as well as A5 postcards. All communications sent via Hybrid Mail can have a consistent style too, thanks to a built-in library of letterheads and company enclosures.
Organisations use Hybrid Mail today for so many applications. We've put together an A-Z list of documents sent by Hybrid Mail here, but as examples, it's great for:
• Appointment letters, appeal letters and absence management letters
• Invoices, interest rate change letters, interview confirmations and invitations for employee reviews
• Direct debit mandates, dunning and debt recovery letters
Essentially any A4, one-to-one, personalised mail, in small volumes or large, that's mailed daily or weekly is perfect for Aceni Hybrid Mail.
Hybrid Mail success story – St Mungo's

St Mungo's is on a mission to end homelessness and helps support people to rebuild their lives. It's currently providing beds in the UK for 3,000 people.

Back in 2012, the rental income team at St Mungo's would print around 1000 rent statements a quarter and mail them to housing clients. It was a manual and time-consuming task. A member of the team would print the documents from the rent accounting software, and five to six area managers would sit and fold them into envelopes, before adding stamps and posting out.

The rental team leader at the time, Dydy Sodeinde, set out to make the workflow more efficient. More specifically to:

Free-up area managers' time to focus on supporting clients.
Make the process more auditable and legally compliant
Review the process workflow: to see if they could save time and money.

Dydy choose Aceni Hybrid Mail, from Datagraphic and in a recent case study shared her thoughts on how well the application works.
Key benefits of this outsource print & post service?
If you're wondering by now how to make the business case for Aceni Hybrid Mail, here's a quick list of benefits to share with colleagues:
Hybrid Mail benefits:
Deliver immediate ROI – cost savings up to 60%
Improve staff productivity – save 3-5 minutes of staff time per document
Pay-as-you-go pricing, no contract or user license fees
Reduce waste – print letterheads, documents and enclosures on-demand
Improve Business Continuity – 24/7/365 high availability service
Easy set-up and staff training process – go-live in under 72 hours
IT Light – no software changes and an easy upgrade path
Support your digital transformation agenda and paperless working
Optimum postage – address validation, 1st class option & internationally mail option.
---
If you'd like to see how Aceni Hybrid Mail works, please request a no-obligation demonstration. You can request a demo here
---
Sources:
1 – Microsoft Surface Work Smarter to Live Better Report