2
minute read
As an organisation that takes its environmental responsibilities seriously, Datagraphic is proud to announce that our production and technology centre has been awarded zero waste to landfill supplier status by Fortress Recycling.
How did we achieve zero to landfill status?
At Datagraphic, we work hard to reduce, reuse and recycle the waste created by our operations and deliver carbon-neutral customer and employee communications in line with our ISO 14001 certification.
We only produce outbound mail using FSC or PEFC sustainably sourced paper, and any waste paper from printing customer communications is recycled, reused or donated. For example, we donate leftover paper rolls to local schools.
Cardboard packaging from suppliers is broken down and recycled.
We dispose of waste inks using waste management specialists, J&G Environmental, who safely treat and dispose of the ink.
Carbon-neutral waste management company Fortress Recycling then collects, weighs and processes any remaining general waste sustainably at its state-of-the-art recycling plant. The diagram below shows what happens to the waste they collect from us.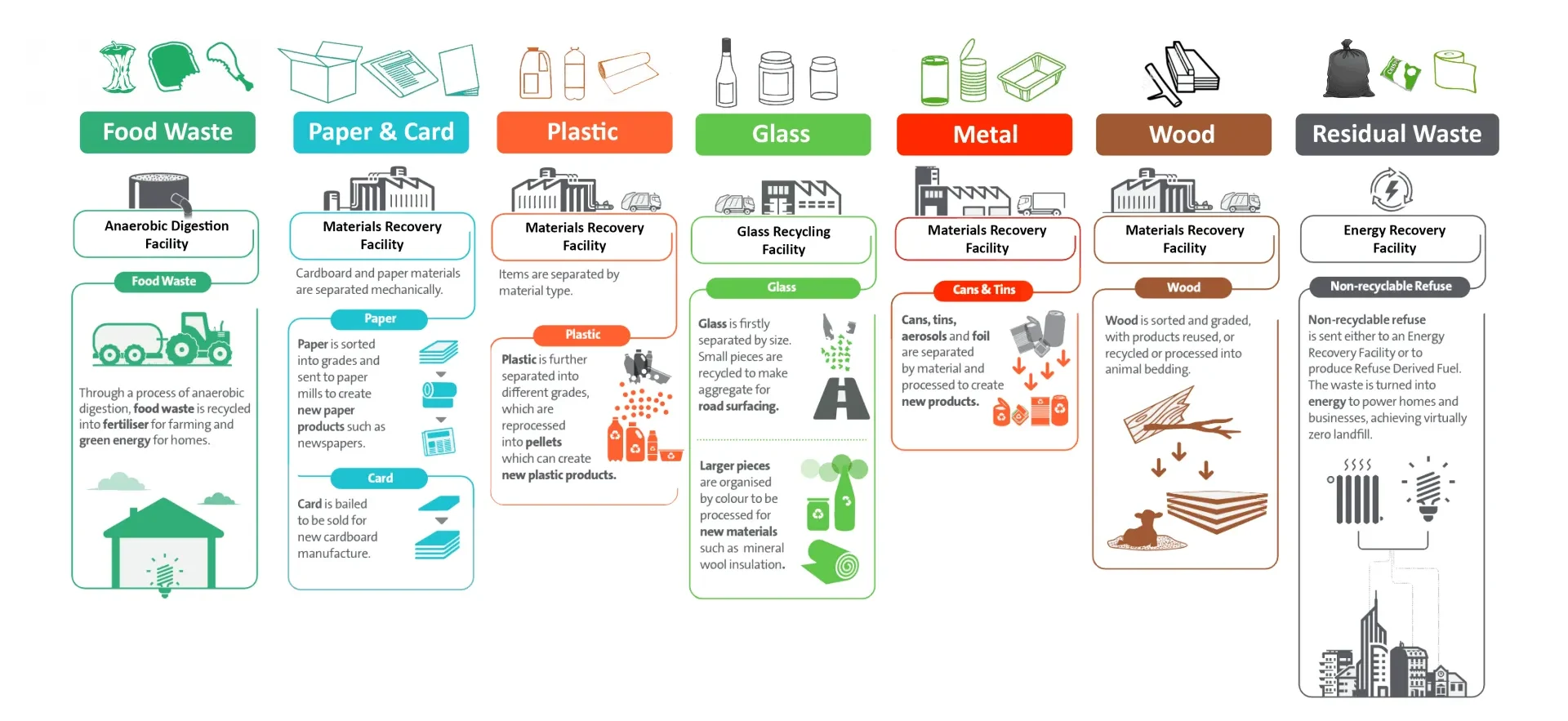 As a result of these initiatives, our waste cycle is, therefore, fully sustainable.
What is zero to landfill?
Zero to landfill is a sustainability concept that aims to eliminate waste sent to landfill. The idea is to shift from a linear approach to waste management to a circular approach by combining waste reduction, reusing materials, increasing recycling or sending waste to energy recovery.
The common interpretation is that at least 99 per cent of generated waste is diverted from landfills. This means that all waste produced is either reused, recycled, composted, or sent to energy recovery. Source: Carbon Trust.
In a zero waste to landfill system, various methods convert non-recyclable items into energy.
Organisations must demonstrate sustainable waste management practices such as:
Source reduction: reducing the amount of waste generated at the source through practices such as waste minimisation, redesigning products and packaging, and using reusable materials.
Recycling: collecting and processing waste materials to create new products.
Composting: converting organic waste into nutrient-rich soil for landscaping and agriculture use.
Energy recovery: converting waste into energy through incineration and anaerobic digestion methods.
Why is zero to landfill important?
Zero waste to landfill initiatives have gained popularity, fuelled by a greater focus on sustainability. The goal is to divert all waste from landfill and instead focus on reducing, reusing, and recycling waste materials.
Organisations are more aware of greenhouse gas emissions, groundwater contamination, and the loss of valuable resources.
A zero to landfill strategy can help reduce environmental impacts, conserve resources, and cut costs.
The zero to landfill concept is important for a more sustainable future. It encourages organisations to think about the entire lifecycle of products and to minimise waste at every stage.
As a business that takes sustainability seriously, Datagraphic is proud to have achieved another milestone in reducing our environmental impact.
To learn more about the environmental measures Datagraphic takes to deliver customer and employee communications, see the sustainability page of this website.