2
minute read
We are proud to have sponsored the latest payslip statistics survey report from the Chartered Institute of Payroll Professionals (CIPP) for the 15th consecutive year. The payslips research into how organisations share pay documents and trends impacting payroll processes, payslips and compliance. 
Read on to understand how the payroll function operates in a time of economic uncertainty.
Payroll teams seek efficient processes
Rising costs, supply chain challenges, and greater legislation bring efficiency to the forefront, and payroll is no exception, whether public or private sector.
Continuing with the trends of recent years, more organisations now have digital tools in place to improve payroll processes and drive greater efficiency. The report shows that most respondents use an employee self-service platform to allow individuals to access their payslips. 
Since the pandemic, 28% of those surveyed changed the distribution of payslips, and 84% use a self-service platform to offer staff immediate access to payroll information. It is encouraging to see this shift towards automation.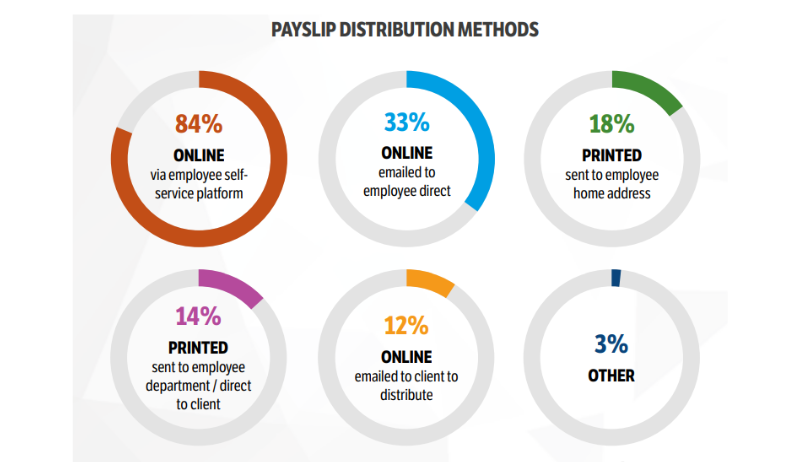 As the data shows, however, organisations still printing payslips have an opportunity to catch up with the digital transformation of payroll operations.
Using a payslip to communicate with employees
The payslip remains a legal document for every organisation to provide ahead of payday.
Unsurprisingly, it's one communication staff open and read regularly. Despite this, 75% of respondents don't use payslips to communicate other employee messages. Failing to use it as another way to communicate with employees feels like a missed trick. Especially when payslip information often needs explanation to help employees fully understand their pay, such as new tax codes or late payments.  
In fact, 50% of organisations have no tools to help employees better understand their payslips, which inevitably drives inbound queries to the payroll function.  Given the disruptive nature of ad-hoc pay-related questions on payroll teams, employee communication tools can help to reduce queries to minimise disruption.
Our clients routinely report how online payslips benefit an organisation, from eliminating manual distribution to reducing inbound queries and reallocating time for higher-value work.
Using payroll technology to reassure employees 
The feedback from the report reveals employees still have concerns about low confidence in digitisation, fraud, and data security of payroll systems. The data reveals that 10% are not confident in payroll digitisation, with 7% of respondents concerned about data security and confidentiality.
As 57% of organisations store payroll records digitally, reassuring employees of privacy and confidentially is essential. After all, for teams to adopt any new system, users need to be optimistic about the benefits. When onboarding new clients to Epay, we do a lot of work to reassure and nurture them to achieve maximum benefit from online payslips.
Given we are in an unpredictable economy, it's key for organisations to look for straightforward process improvement tools they can quickly deploy without capital costs. Get in touch to understand more about how the benefits of an online payslips portal.
 Access the Payslip Statistics Survey Report 2023 (2008-2023).