2
minute read
Earlier this year, our sustainability team launched a paper recycling project with Warwickshire and Leicestershire schools. We invited schools within the Datagraphic community to join in our art project to get creative with our waste paper. As a business, we produce waste paper from our printers that we can't always use, which is usually recycled. To mark King Charles' coronation, however, we wanted to do something more to give back to our community.
As part of our social impact strategy, we donated waste paper from our production centre to the local schools. The brief was to get creative and come up with ideas of how it could be used by the new King to create a book and go on display at Rugby Art Gallery and Museum in July. 
The New King and the Royal Roll
Undeniably, the school children had some incredible ideas, drawings and stories and even a paper robe with a cape and crown. They put their creative little brains on, and our team in the Rugby office really enjoyed looking over the entries. In fact, as continuous paper, the entries on the roll spanned the entire floor of our building!
And the winners of the paper recycling project are…
Drum roll, please…
We're delighted to announce the winner of the £250 school donation is Paddox Primary School, Rugby. Sreenidhi Karthikeyan drew an image of a smiling King Charles and Queen Camilla as well as environmental icons. As the winner, the drawing will now be used for the front cover of a souvenir printed book.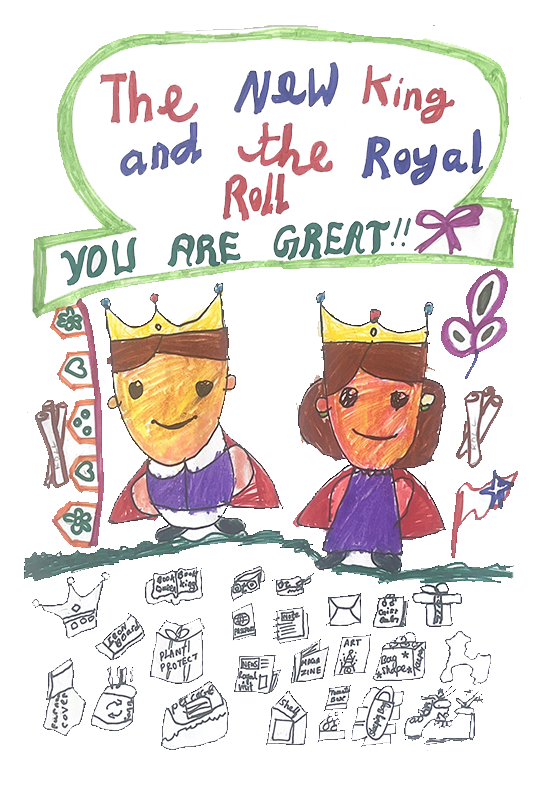 We are also so impressed with the submissions from the other schools too that we have decided to add some extra prizes. Eastlands Primary School, Rugby entered so many drawings that we have awarded a second prize.
To that end, we'd like to thank all of the children and teachers who entered our project. The artwork from the book will be displayed in Rugby Art Gallery and Museum for two weeks from W/C 3rd July.