9
minute read
Let's take a look at how Robotic Process Automation is transforming payroll to give you the time and mind-space from operational tasks to focus on the 'human' side of payroll.
Automation is not a new concept, but it is now one of the most popular buzzwords used in the payroll and HR industry. Once feared as a job replacement, people are starting to understand the benefits and embrace technology that can enhance their role within their organisation. And Robotic Process Automation is one of the technologies that is helping payroll teams manage their time more effectively so that they can focus on delivering high-value, strategic insight.
What is Robotic Process Automation?
Robotic Process Automation (RPA) is software, or a set of tools, that can be programmed to use structured data and rules to complete routine tasks. It's best suited for processes that are repetitive, time-critical, prone to error, data-driven and rules-based (predictable).
It's software that can be easily programmed to do tasks employees are currently doing. RPA is designed to reduce the burden of repetitive, simple tasks on employees so they can focus their time on high-value work.
---
Approx. 70 – 80% of repetitive, rules-based tasks can be automated

1
---
RPA vs Artificial Intelligence (AI) – what's the difference?
Some people get confused between RPA and Artificial Intelligence (AI), which is understandable as it is one of the terms that often gets mentioned alongside RPA in conversations around automation.
AI is an automation technology that can learn, interpret and analyse data, recognise patterns, make predictions, suggestions and recommendations. With RPA, you have to set rules and tell it what to do, whereas AI will 'think' and 'learn' for itself and then act on what it thinks is the correct solution.
AI is powerful but can be very disruptive. It is typically more expensive and can take longer to implement than RPA because it requires you to understand a process in great detail and be able to build complex scenarios for intelligent automation to work from.
If you're starting on your process automation journey, be aware of AI, but it's worth considering smaller RPA projects that you can implement in weeks not years.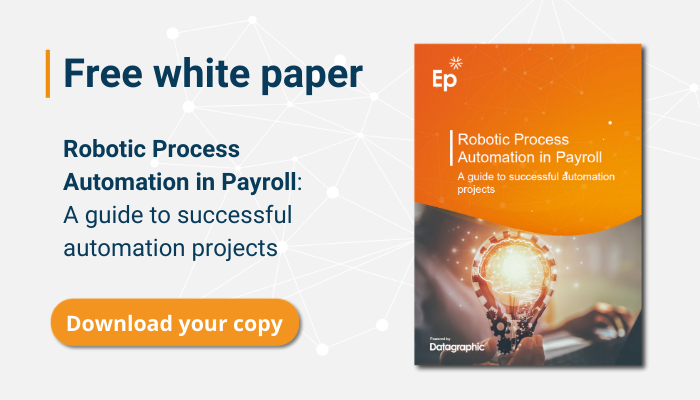 What are the business benefits of using RPA?
To remain competitive, organisations need to see an increase in speed and accuracy, whilst also reducing costs, to gain an edge.
A logical starting point is to look at reducing the hundreds of hours that internal teams waste on mundane, repetitive, labour-intensive tasks. Things that could be automated.
Using Robotic Process Automation tools to automate internal processes offers many business benefits that can help beat off the competition. RPA can be implemented in weeks, so you can immediately see the saving potential. RPA can seamlessly integrate with existing business systems so that it can be developed and changed with ease. As well as cost savings, RPA can improve consistency, boost productivity and increase efficiency.
RPA vs traditional automation – what's the difference?
As it suggests in the names, robotic process automation and traditional automation are both automation tools used for repetitive tasks. Traditional automation is usually applied to production workflows and can allow machinery to perform tasks.
One of the main differentiators when comparing Robotic Process Automation to traditional automation, is that RPA doesn't need application integration to work: so it can be implemented in weeks. Whereas, traditional automation needs application integration at a database or infrastructure level, which can take several months.
Robotic Process Automation has the following characteristics:
It is system agnostic, so it can easily work across multiple system types.

It can work quickly as it simply uses rules and data to complete/mimic tasks.

It is scalable, and system integration is easy.

It is easy for everyone to use (even those of us that are non-technical!).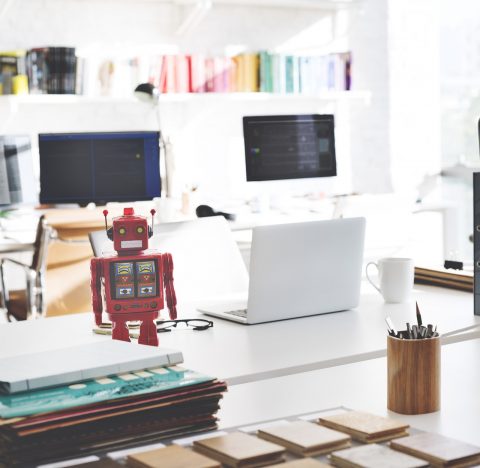 5 benefits of using Robotic Process Automation in payroll
Whether you view technology as a friend or foe, it's undoubtedly shaping payroll, and you'll increasingly use it for data entry and number crunching, to release time for you to deliver higher-value tasks.
---
78% of payroll professionals believe that technological advances will make individuals and their payroll team more effective2
---
There are many reasons why RPA should be used in payroll and here are our top five benefits to help you create a strong case that will make it hard for senior stakeholders in your organisation to deny.
1. RPA is non-invasive technology
Payroll software is vital for data capture, calculations and reports. Your teams rely on it to help pay people. It contains a wealth of data that with the right help can output information which employees value. Any change to the software can cause disruption and often comes with a considerable price tag. But for RPA to work, no change is required from your existing systems, which leads to considerable saving potentials.
2. RPA can seamlessly integrate with your existing payroll systems
RPA can work without any reliance on your existing software or systems. This means it can be developed and changed with ease. So if you want to add or amend an automation process then you can easily and quickly.
3. RPA works perfectly with industry expectation of accuracy and punctuality
Payroll is known for paying people accurately and on-time, but on occasion, even the most conscientious and driven employees can make mistakes. Using RPA the right result, decision or calculation is made every time.
4. RPA completes tasks in minutes
Tasks, such as payslip distribution, that previously took your teams hours to complete can now take seconds or minutes to complete by using RPA technology. So you've got more time to focus on new projects, analyse employee data to provide insight into other areas of the business such as finance and HR—all without having to worry about completing the repetitive, administrative payroll tasks.
5. RPA is a low-cost, high-outcome solution
Not only will automation technology help you become more productive and efficient, RPA is a low-cost, high-outcome solution. There are Software-as-a-Service (SaaS) solutions available that seamlessly integrate with your systems and can be live in weeks, so there's no need for disruptive or lengthy change projects.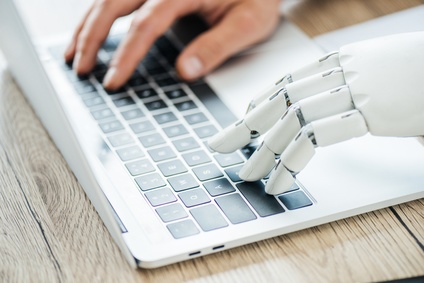 Where can RPA be used in payroll?
RPA has already been used to significant effect in many different payroll functions, with the following areas in particular seeing tangible benefits from more automated and rules-driven processing:
New starters/leavers
Attendance records
Absence records
Holiday records
Deductions (pension, loans and taxes)
Another area automation tools can significantly improve is the distribution of payroll documents. Let's consider the communications you send to employees, for example, payslips, P60s and pay award letters. With a hybrid workforce (a mix of employees working in the office and at home), your employee document distribution process may be fragmented, expensive and open to risk of non-compliance with legal obligations. By automating production and distribution using RPA tools, these documents can be presented in print or digitally in a fraction of the time, releasing days of resource for you to focus on other priority projects.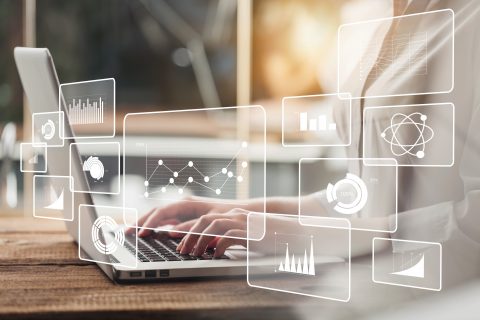 FAQs about Robotic Process Automation in payroll
You might be reading this and thinking well, how can this work for me? If so, we've rounded up the most frequently asked questions we get asked about RPA in payroll.
Q. How quickly can RPA be up and running?
A. Due to the flexibility of RPA, it can be set up and ready to go in weeks. But it does depend on the complexity of the project and how well you know the process you want the RPA technology to mimic. Do your research and make sure you choose a third-party supplier who can work with you from set-up to delivery and who will take the time to understand your needs and then provide an accurate time-scale.
Many providers, such as Datagraphic, can implement RPA solutions without lengthy software change projects and no capital costs, so you can be up and running in weeks and seeing results in as little as four months.
Q. How much does RPA cost?
A. Compared to other automation technology, such as AI, RPA is a low-cost option. Depending on the size of your project, some organisations might only spend a few hundred pounds each year, whereas others will spend thousands. When working with a third-party supplier, a typical cost breakdown consists of a set-up and implementation fee and a monthly service charge.
For example, with Datagraphic's automation services you don't need to buy any new software, there are no consultancy fees to pay or hardware to purchase, so the cost of set-up and ownership is very competitive.
Q. Will using RPA result in job losses?
A.No. RPA technology should not replace 'human' jobs but work alongside and complement them. RPA will streamline processes and deliver data-driven insights. This will open the door for Payroll Managers to focus their skills on more strategic and creative roles – that 'robots' can't do! As examples, we could see Payroll Managers as Data Analysts: providing strategic insight to the board or Reward Partners: communicating financial and well-being information to educate employees.
Q. Does RPA work with legacy payroll systems?
A. The great benefit of using RPA in payroll is that you don't have to change your current payroll systems for it to work. There are Software-as-a-Service (SaaS) solutions available that provide automation technology that seamlessly integrates with your existing payroll system – no matter how long you've had the system in place.
Choose a solution that can take data from your existing systems in any format: XML, CSV, TXT, PDF, DOCX files and more. Before you choose a supplier, ask to send a test file to give you an indication of whether the data is useable.
Q. What do I need to start using RPA?
A. RPA doesn't have to be a big, costly project that will take years to implement. Think big, but start small. You're more likely to achieve automation success by piloting smaller projects first, learning from them and then building on them. Begin your journey by assessing your processes and understanding which ones will benefit from being automated. Don't automate complex, varied, creative or personal tasks.
You'll need buy-in from other departments across the business including, the C-suite. To gain their approvals, you need to understand what RPA will mean for your business, what processes would benefit from being automated and where RPA will add the most value. Identify and choose an automation supplier that is agile and flexible, and that can evolve with you.
If you have a different question you'd like the answer to, then please get in touch, and one of our automation experts will be happy to help.
Robotic Process Automation in payroll: beyond 2020
Datagraphic's Group Managing Director, Glyn King, has worked in the payroll industry for over 25 years and witnessed first-hand how technology has developed the profession. He shares his thoughts on Robotic Process Automation in payroll beyond 2020:
"The role of payroll looks set to become more 'human' than ever before. Payroll teams will be there to provide insight, to engage and inform co-workers. Whilst technology like RPA will take care of the repetitive and administrative tasks that take up their workloads today.

In my experience, payroll has had to be one of the most flexible departments when it comes to adapting to change. As a profession, you're regularly challenged to understand and implement new legislation within deadlines and to present it in meaningful ways to employees and business stakeholders. The analytical and communication skills used in this process are – and will continue to be – valuable, providing a 'human' touch in a world of increasing automation and robotics.

So as more payroll teams see the value of RPA, I think we'll see a shift in the role payroll plays within an organisation in the future, but also a change in attitudes towards payroll being a vital function that can offer strategic insight.

And as we enter a new decade of innovation and technology progression, we will start to see more powerful, intuitive and complex technologies leading to more game-changing solutions that will improve the way we work even more.

For the payroll profession to evolve and to deliver a more 'human' employee experience, the use of technology and automation tools is essential to free time and mind-space from operational tasks in 2020 and beyond."

Glyn King, Group Managing Director
Datagraphic
What next?
Robotic Process Automation doesn't mean you have to change the way you operate entirely. Think big but start small. What processes would benefit from being automated? Where will it add value? What are your pain points? Pilot small automation projects first and then build on them and implement on a wider-scale.
For example, consider the documents you send to employees such as payslips, P60s, P45s and reward statements. Delivering this information to your workforce can be a very manual process that takes up so much of your time. But RPA technology can easily automate this.
---
RPA in Payroll white paper
If – like other payroll teams – you're looking for advice on how Robotic Process Automation (RPA) tools can improve payroll tasks, download our free white paper – Robotic Process Automation in Payroll: A guide to successful automation projects
In the white paper, we share ideas on how you can use RPA tools for payroll tasks and how you can benefit from embracing automation technology. Plus, you'll get best practice advice from automation experts.
Download the white paper here >>
Or if you'd like to speak to one of our automation experts, please get in touch.
---
References