4
minute read
The concept of 'going to work' is unrecognisable today compared with traditional office scenes of just a few decades ago. COVID-19 saw remote working become the norm for Datagraphic's teams virtually overnight. Since then, as we have settled into a new normal, employees have sought a more mindful work-life balance and flexible employment. 
For all organisations, it's a delicate balancing act between consistently meeting client and business commitments and recognising the importance of employee work-life balance. However, at Datagraphic, we are working hard to achieve that balance and are always seeking ways to support flexible working where possible.
As an employer, Datagraphic recognises flexible working is particularly valued by our working parents, and feedback suggests they appreciate our approach to supporting them with balancing their professional responsibilities and family life.  
Flexible working in meaningful employment
People make up one of the four key pillars of Datagraphic's Social Impact strategy. 
Our commitment is to treat people fairly and equally to support employees' good health and well-being. That's why we are focused on fostering positive social change within our organisation and see career development, job satisfaction and an adaptive work environment as mutually exclusive. 
Datagraphic aims to create meaningful roles with real career development opportunities and sustainable remuneration, whether full-time, part-time, office-based or remote. We align with the United Nations Sustainable Development Goals to ensure we offer decent work and economic growth, reduced inequalities, gender equality and good health and well-being. 
Why is flexible working important?
Along with the moral side of respecting employees' personal commitments outside of work arrangements, Datagraphic has built a loyal and dedicated team based on openness. 
Our senior leadership team recognises that a culture of equity strengthens teamwork and promotes greater collaboration throughout the organisation. Talent and hard work are rewarded with trust and appreciation. That's why managers are comfortable with employees requesting to work from different locations, hours and working patterns where their job roles allow. 
In comparison to other UK organisations, this is what sets Datagraphic apart. According to research from a YouGov poll commissioned by Working Families and SF Recruitment, of the UK parents currently in work, 3 in 10 are in jobs below their skill level because their jobs offer greater flexibility. There is, therefore, a need for more high-quality part-time and flexible roles in the labour market. This is something Datagraphic offers. 
What are the benefits of a flexible work-life balance?
Three key benefits employees cite flexible working at Datagraphic has facilitated for their lives outside their employed hours. 
Flexible working has helped employees feel less stressed and overwhelmed. The opportunity to discuss working hours to support family life with reduced commuting time by remote working is instrumental in juggling modern life demands.

Higher levels of job satisfaction when given the flexibility to adapt work hours if needed. This naturally leads to greater retention rates amongst long-standing team members.

More fathers have adopted flexible schedules to accommodate family logistics, creating a more inclusive and equal work environment. 
Rhian's story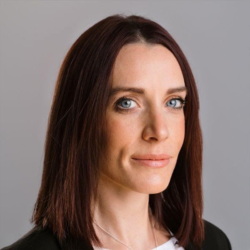 Datagraphic employee Rhian Harris explains what working at Datagraphic means for her work-life balance.
"Before I had children, I worked in stressful marketing roles in central London. The hours were long, the demands were high, and I had hectic commutes on either side. I knew that arrangement wasn't for me. So, I freelanced while my kids were young to enjoy time with them and to accommodate their childcare needs. I spent around a year working freelance with Datagraphic before a permanent opportunity in the marketing team came up. 
Having not worked as part of a team in almost a decade, I wasn't sure how it would work around my children. I'd never had to consider school holidays, sickness or any other obligations where I couldn't choose my hours before. I also never thought I'd find a local job that matched my skills, challenged me and would still allow me to be a mum.
Very quickly, it became evident that the people at Datagraphic are all sympathetic to the commitments of family life. Moreover, there is an understanding that children can always throw a spanner in the works. Sometimes, we have no other option but to leave with little notice, and that's understood.
Working for Datagraphic has made me feel valued as part of a great team again. That's something I'd missed more than I realised. I'm encouraged to get involved with new projects, lead initiatives within reduced hours, and feel recognised for my contribution. For that reason, I am motivated to grow and go the extra mile in my role.
And when I'm standing at the school gates to start my other role as 'mum', I don't feel judged as a 'part-timer'. Datagraphic is a great place to work, and I'm really happy to be playing my part."