2
minute read
Times of uncertainty can mean investing in new HR/Payroll software is put on hold. Some experts believe it could be 2-4 years before teams can rebound to pre-COVID-19 positions. But did you know you can still deliver the best employee experience even if your budget is on hold?
Organisations are starting to feel the full impact of COVID-19, and as a result, many teams are having to tighten budgets and put any change projects on hold. A recent Gartner report suggests it could be 2022/24 before companies are in a position to invest in HR/Payroll software again.
Instead, HR and Payroll teams are being directed to focus on 'tactical spending'. If existing software is working and fulfilling its purpose then investing in new software that has greater capabilities – such as advanced reporting and online communication options – is not considered a priority. And as we know changing software is no small task! It can take years to implement and has high capital costs.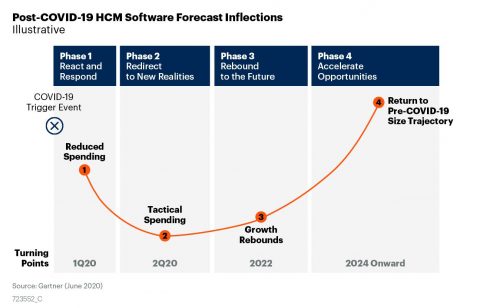 [Source: Gartner, Market Impact: Cost Optimization and Remote Working Will Redefine HCM Technology Spending in 2020 and 2021. Image Source: LinkedIn by Gartner Analyst, John Kostoulas]
The employee experience dilemma
HR and Payroll teams face a challenge. Workforces are becoming more dispersed, with many employees no longer based in a central office full-time, the challenge is engaging with these employees and ensuring they're able to access their employee information wherever safely and securely.
They also need to communicate with an increasingly digital workforce that wants to receive communications in different ways, but find existing software is only able to provide communications in fixed formats or to those employees who are office-based with access to the intranet.
The dilemma: you understand the need to change to improve employee experience but other stakeholders don't see this as a priority and believe in 'tactical spending' only for the time being.
But here's some good news, you don't have to put your plans to improve employee experience on hold.
Don't put employee experience on hold
There are low-cost third-party solutions available – like Datagraphic's Epay – that seamlessly work with your existing systems to deliver a consumer-grade employee experience. Often in a matter of weeks, so no lengthy software change projects, no capital costs and no license fees.
You can provide employees with multi-channel access (online and in print) to their most important employee information such as: payslips, time-sheets, reward statements, furlough updates and more.
You can deliver a secure communication portal so your employees have the confidence that their information is safe.
---
If you would like to learn how you can deliver a great employee experience now, then speak to one of our experts who will be more than happy to talk through options that suit your needs.